BioStat® supports the efforts of Polish scientists in the search for a COVID-19 treatment as part of non-commercial clinical trials. Managing each process in times of the COVID-19 pandemic is a real challenge. Especially when we are talking about clinical trials in which we join forces with Sponsors and Research Centers in search for effective treatment.
The real opportunity to achieve a long-term advantage over the coronavirus lies in the potential of clinical ventures, including non-commercial ones. The pace of research and keeping the competent authorities informed of the results is of great importance for the health of all mankind. Almost every day we read reports in the media about new scientific discoveries that give a chance to counter the virus.
Polish Medical Research Agency is launching new funds that are used by large Polish research units, including Independent Public Clinical Hospital No. 1 in Lublin, or the Wroclaw Medical University.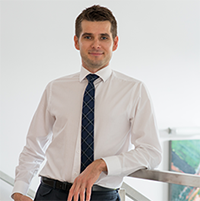 Our participation in these projects is, on the one hand, an incredible honor, and, on the other hand, a huge challenge, with absolute priority "0". We thank the sponsors for this proof of trust. We hope for a fruitful and dynamic cooperation, the effects of which we will probably have to wait for, but today we are optimistic about the future. We work together to improve the epidemic situation in Poland. We also support Polish companies, ie Biomed Lublin, which is a partner of the Lublin hospital in the production and supply of immunoglobulin from the plasma of convalescents for the needs of clinical trials. We do not stop at the same patterns and procedures, but constantly improve our processes to more effectively respond to the restrictive requirements of our clients. We like to think outside the box. Looking globally, there is still a lot of work ahead of us, but the time of dynamic changes that has come only stimulates us to act and develop - comments Rafał Piszczek, CEO of BioStat®.
BioStat® Research and Development Center is among the commercial research units with the status of a R&D Center in the register kept by the Minister of Entrepreneurship and Technology. The key area of the company's activity is the management and organization of clinical trials. We deal with the preparation of all necessary documentation, registration of tests, contracting centers, as well as providing software (eCRF) necessary to conduct research and manage the patient base. We also prepare research reports and conclusions.
BioStat® is involved in several non-commercial clinical trials, including:
Multicenter, randomised, double-blind, placebo-controlled, non-commercial clinical trial to evaluate the efficacy and safety of specific anti-SARS-CoV-2 immunoglobulin in the treatment of COVID-19. sponsor Independent Public Clinical Hospital No. 1 in Lublin.
Multicenter, open-label, randomised, non-commercial study to evaluate the efficacy and safety of chloroquine phosphate in outpatient COVID-19 treatment in combination with telemedicine care among SARS-CoV2 infected patients at risk of developing complications to reduce the risk of COVID-19-related hospitalization and death. Sponsor Medical University of Silesian Piasts in Wrocław.
Clinical study "Pharmacological reperfusion treatment of ischemic stroke in patients taking oral anticoagulants", according to the grant agreement 2019 / ABM / 01/00084 / P / 01, STROACT. Sponsor: Medical University of Gdańsk.
Clinical trial: "Early rituximab treatment in children with idiopathic nephrotic syndrome. ERICONS - Early RITUXIMAB in Childhood Onset Nephrotic Syndrome, 2019 / ABM / 01/00024 ERICONS. Sponsor: Medical University of Gdańsk.
Go to: Non-commercial clinical trials.