E-contracts / e-Payments
.
Online contract signing and payments.
Use the
e-contracting
function and
sign agreement via the eCRF system
.
Send and sign online agreements in a fast, convenient and secure way.
The solution used in the eCRF system speeds up the process of finalizing contracts with Investigators.
It takes a few minutes to send and sign documents online.
How to
safe time and money?
You do not have to print, scan or send contracts by courier.
Documents can be signed on any mobile device, i.e. smartphone, tablet or laptop.
Step 1 - Registration
The completes the registration form provided on a dedicated website. After completing the registration process, a contract is automatically generated and sent to the user's e-mail address.
Consent to personal data processing
Registration form
Automatic agreement generation
Contract sending in 24 hours

Step 2 - Verification
After receiving an e-mail with the document, Investigator is required to read the regulations and verify the contract.
E-mail with agreement
Regulations verification
Agreement verification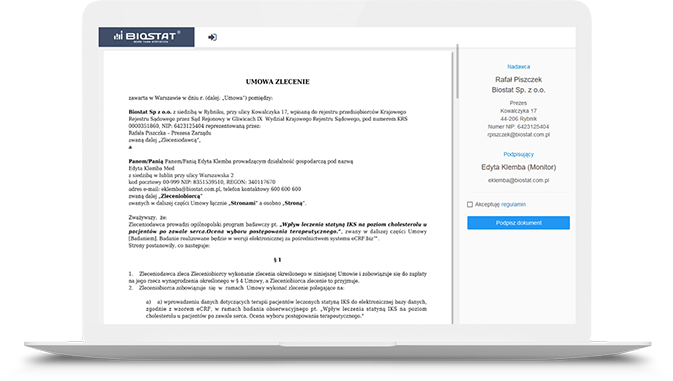 Krok 3 - Acceptance
The user can finalize the agreement by accepting the regulations and the contract (by clicking the link contained in the e-mail). After signing, the document is automatically saved in the encrypted archive and sent to the user in the second e-mail as an attachment - pdf file.
Regulations acceptance
Agreement acceptance
Signed Agreement
E-mail with signed contract

Other
eCRF system functions
.